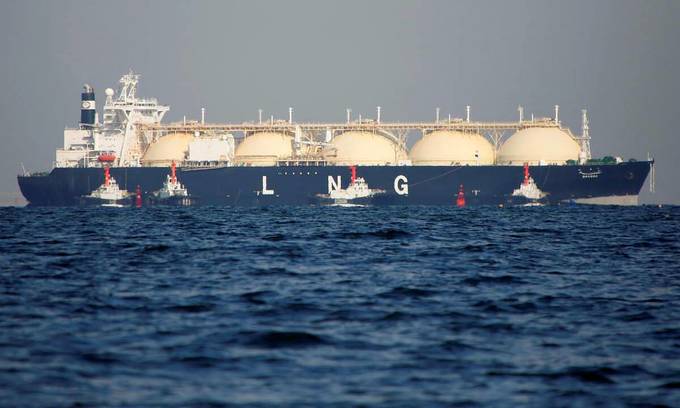 A $3-billion agreement has been struck for an LNG-to-power plant in southern Vietnam to use equipment and technologies of a leading U.S. energy group.
The signing took place during the Indo-Pacific Business Forum held in Hanoi on Wednesday for Singapore's Delta Offshore Energy (DOE) to use $3 billion of equipment and engineering services from Bechtel, General Electric, and McDermott, "utilizing the best-in-class American technology and engineering" for a liquefied natural gas (LNG) power plant in Bac Lieu Province on Vietnam's southern coast, the U.S. State Department announced.
"The project is a flagship model for U.S.-Vietnam bilateral relations on trade, investment and energy security, and represents a new dawn for private sector-initiated investments in energy infrastructure in Vietnam," it stated.
Delta Offshore Energy was licensed in January to build a plant to integrate LNG to power in Bac Lieu, with construction expected to start in 2024.
The Bac Lieu LNG to power project of $4 billion is the biggest foreign direct investment (FDI) initiative in the Mekong Delta and is expected to reach full capacity of 3,200 MW by the end of 2027. Electricity prices will be decided later through negotiations between DOE Singapore and Vietnam Electricity (EVN).
The project is the first private sector owned and operated LNG-to-power initiative approved in the national master power development plan as a 100-percent foreign direct investment under Vietnam's Law on Investment.
The total project concession will be up to $50 billion over 25 years.
The concession will be under a Power Purchase Agreement with EVN to deliver clean power to the national grid, in particular in the south where power is less developed relative to central and northern regions, DOE stated in August.
The U.S. Trade and Development Agency (USTDA) has supported 16 energy projects throughout the Indo-Pacific over the last three years that will create export opportunities for U.S. firms, including feasibility studies to accelerate India's use of natural gas and improve energy access, develop a solar photovoltaic power plant with an integrated energy storage system in Thailand and enhance inter-island transportation of LNG in Indonesia.
During the 2020 Indo-Pacific Business Forum, USTDA announced the finalizing of new commitments and unveiled a series of initiatives that will serve to deepen economic ties between the U.S. and the Indo-Pacific region. These new projects span the energy, healthcare, information and communications technology (ICT), and transportation sectors in eight countries across the region.
In specific, it will support Indo-Pacific natural gas infrastructure development through a series of reverse trade missions (RTMs) that will bring leaders from Bangladesh, Thailand and Vietnam to the U.S. to review the best practices for value-based natural gas infrastructure planning and observe the most innovative American natural gas technologies, equipment and services.
The U.S. Agency for International Development has launched the Asia Enhancing Development and Growth through Energy (Asia EDGE) initiative to support the U.S. government's vision for a free and open Indo-Pacific, working to grow sustainable and secure energy markets throughout the region.
USAID's Regional Development Mission for Asia recently added the following activities to its Asia EDGE portfolio as a means to both harness the power of public and private sector collaboration and to fuel sustainable energy growth.
Vietnam's government is drafting a new national power development plan for the next decade that will include 22 LNG power plants with a combined capacity of up to 108.5 GW, the first of which will be commissioned in 2023.
Original Article here: https://e.vnexpress.net/news/news/lng-power-project-in-vietnam-to-utilize-american-services-4183484.html